Quality Tape Measures
Whether you're crafting the perfect article of clothing or working on a construction site, tape measures play an integral role in making your project a success. At The Perfect Measuring Tape Company, we understand that measurement tools need to be accurate, dependable, and economical. That's why we're dedicated to providing the highest-quality measuring tools and custom measuring tapes on the market. Designed for ease of use and unsurpassed accuracy, our tape measures suit a wide range of projects—both personal and professional in nature. They're also made to last with shock-resistant exteriors on our construction models and wear-resistant surfaces on our vinyl and tailor's tapes. So, if you're in the market for tape measures and measuring tools you know you can rely on, you've come to the right place.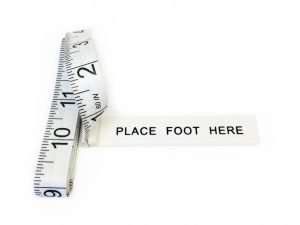 Unit Price for this product is based on the following Minimum Order Quantities, choose your quantity to preview the subtotal.
Quantity

0-

99

100

- 999

1000

- 2999

3000

- 4999

5000

+
Unit Price (Standard)

$.99

$

0.84

$

0.79

$

0.69

$

0.59

Unit Price (Customized)

$1.39

$

1.18

$

1.11

$

0.97

$

0.83
White vinyl-coated fiberglass tailoring tape with inches (down to 1/16ths) on one side and split-scale inches and metric on the other side. Comes with a detachable step-piece that allows one-handed inseam measurement. Length: 60"/1.5m; Width: 16mm
View product
Our staff periodically post blog entries from the immeasurably diverse world of measuring tools. Here you'll find stories of great feats in measurement history, descriptions of lesser known categories of measuring tapes and tools, and tutorials on how to use our measurement systems. If you like measuring, you're in the right place!  If there's a measurement-related topic you're interested in learning more about, write to us and we'll blog about it!
Secret Agent of Precision: The Measuring Tape in Crime Scene Investigations
Measuring tapes help transform the abstract into tangible data – data that's essential to piece together the fragments of truth. With every inch they unravel, they bring precision to an arena that greatly depends on it.
The Tapestry of Units: A Tour Through Imperial and Metric Measurements
Venturing into the realm of converting measurements can be daunting, but armed with the right tools and knowledge, it's a hurdle we can comfortably overcome. Here, I'll walk you through a step-by-step guide on converting units between the Metric and Imperial systems.