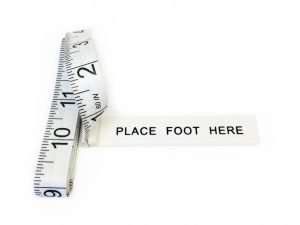 Unit Price for this product is based on the following Minimum Order Quantities, choose your quantity to preview the subtotal.
Quantity

0-

99

100

- 999

1000

- 2999

3000

- 4999

5000

+
Unit Price (Standard)

$.99

$

0.84

$

0.79

$

0.69

$

0.59

Unit Price (Customized)

$1.39

$

1.18

$

1.11

$

0.97

$

0.83
White vinyl-coated fiberglass tailoring tape with inches (down to 1/16ths) on one side and split-scale inches and metric on the other side. Comes with a detachable step-piece that allows one-handed inseam measurement. Length: 60"/1.5m; Width: 16mm
View product
Our staff periodically post blog entries from the immeasurably diverse world of measuring tools. Here you'll find stories of great feats in measurement history, descriptions of lesser known categories of measuring tapes and tools, and tutorials on how to use our measurement systems. If you like measuring, you're in the right place! If there's a measurement-related topic you're interested in learning more about, write to us and we'll blog about it!
Perfect Measuring Tape: Trusted By The US Army
PMT is proud to announce that we are an official supplier to the US Army. In October of 2019, the Army, as part of an extensive US government contract bidding process, selected our 100ft surveyor's tapes to be used by troops across the globe as part of the Army Combat…
Perfect Waist & Body Tapes: Body Measurements Made Easy
If you've ever been to the doctor or taken your child to the doctor, you've likely seen a body circumference measurement taken. With infants, it's usually taken around the head to measure head circumference. In adults, a circumference measurement may be seen as part of a wellness exam or a…