As a surveyor, your tape measure needs to be precise, reliable, and versatile. Whether you're marking a boundary, verifying distances, or determining measurements for a map or report, The Perfect Measuring Tape Company has the tools you need to be successful. With several options and features, you're sure to find the surveyor's tape measure that perfectly fits your needs.
Every surveyor's tape measure manufactured by The Perfect Measuring Tape Company will stand the test of time. Both our open wheel and closed design products are made with non-stretch and vinyl-coated fiberglass tape that's water-resistant and durable. Our open reel tape measures feature a large crank arm for fast and easy rewinding, while our closed designs are made with rugged plastic and rubber grips. The locking mechanism on our closed design keeps tape tight and organized while keeping out any dirt and debris.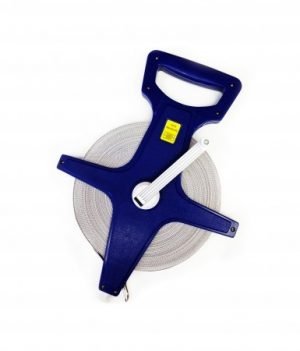 Unit Price for this product is based on the following Minimum Order Quantities, choose your quantity to preview the subtotal.
Quantity

0-

49

50

- 99

100

- 499

500

- 999

1000

+
Unit Price

$39.99

$

37.99

$

33.99

$

29.99

$

27.99
Blue ABS plastic frame with reinforced vinyl-coated fiberglass tape showing inches down to eighths and metric down to mm. Open reel design with large crank arm. Length: 330ft/100m
View product