Durable, readable folding rules are essential carpentry tools. The Perfect Measuring Tape Company offers an ABS plastic folding carpenter's rule with stainless steel springs that stand up to frequent use. The markings on our ruler are both printed and engraved for easy and lasting readability. Measurements are down to 1/32 inches in the first six inches and 1/16 inches for the remainder of its six-and-a-half-foot length. No need to buy a separate tool for measurements in centimeters; this tool doubles as a metric folding ruler on the reverse side.
For something different and lighthearted, try a silicone snap bracelet. Easy to carry wrapped around your wrist, it can measure around doorknobs and pipes with a snap. Give one a try today.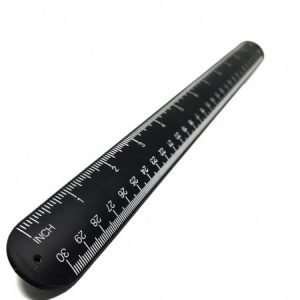 Unit Price for this product is based on the following Minimum Order Quantities, choose your quantity to preview the subtotal.
Quantity

0-

99

100

- 999

1000

- 2999

3000

- 4999

5000

+
Unit Price (Standard)

$4.99

$

4.24

$

3.99

$

3.49

$

2.99

Unit Price (Customized)

$5.39

$

4.58

$

4.31

$

3.77

$

3.23
Black silicone ruler snap bracelet
View product