Whether you work in the retail and wholesale fabric industry, or in furniture, fine apparel, or carpeting, our textile measuring tape and tape dispensers can help you measure and manage fabric inventory with ease and accuracy.
The Perfect Measuring Tape Company got its start in the textile industry and we've been inventing, patenting, and building textile-related machinery since 1912. Over 100 years later, we still lead the competition in printing and cutting fabric measuring tape for the world's textile and apparel industries.
In the textile industry, inaccurate fabric measurement directly affects your business' bottom line. That's why we created the Perfect Measuring Tape® system for inventory control. Using this system, each time you remove a length of fabric from the roll, the measuring pulling tape indicates exactly how much of the material is left, preventing textile shortages or overages of as little as one yard or meter in 500. This level of precision saves you time and money, especially for lesser-used fabric. The best part? You can integrate our textile measuring tape right into the roll during fabric inspection or rolling without adding any additional time or labor.
With a variety of widths, our measuring roll inventory system is a tried and true method to eliminate guesswork, increase your margins, and save you time. Now, instead of focusing on solving inventory or measurement issues, you can focus on what really matters – creating a high-quality product with a perfectly measured cut of fabric.
Showing the single result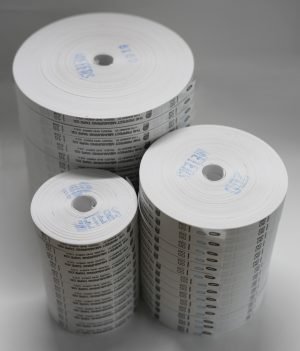 Manufactured from kraft paper engineered for high tensile strength, we offer the Perfect Measuring Tape® in lengths in up to 1000 meters. These products are sold in various lengths per roll and with a minimum quantity of 1 case. Number of rolls per case will vary depending on meters selected.
View product