At the Perfect Measuring Tape Company, we understand your needs vary, which is why our paper measuring tape is a popular item and meets a range of needs. Commonly used to measure textiles, paper measuring tape's flexible material makes it easier to measure items that are not stiff, flat, or straight. As a result, your measurements will be more accurate, saving time, money, and waste.
Our paper measuring tapes are ideal for the retail and wholesale fabric, furniture, fine apparel, and carpeting industries. Busy fabric stores, upholstery shops, and bespoke apparel salons appreciate the precise measurements they can achieve with our measuring tapes.
Wholesale and retail operations can buy paper tape measures in bulk from PMT to ensure that none of their hardworking employees are ever without the measuring tool they need to serve customers and patrons. Disposable paper measuring tape may also be recyclable, making them an environmentally responsible choice. Make accuracy and consistency easier with our selection of paper measuring tapes.
Showing the single result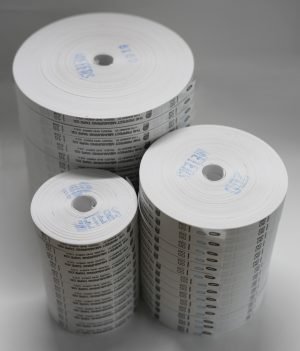 Manufactured from kraft paper engineered for high tensile strength, we offer the Perfect Measuring Tape® in lengths in up to 1000 meters. These products are sold in various lengths per roll and with a minimum quantity of 1 case. Number of rolls per case will vary depending on meters selected.
View product