The Perfect Measuring Tape Company has found the perfect balance of durability and flexibility in our tailor's measuring tape products; wear-resistant, non-stretch vinyl-coated fiberglass and brass end pieces come together to create a soft yet durable product. Our professional tailor measuring tape can be easily wrapped around customers' chests, arms, or waists time and time again and maintain its accuracy.
The right tailor's cloth meter tape can help a seamstress or tailor transform an average outfit into a custom-made masterpiece. With accurate measurements, you can make your clients' clothing fit them like a glove from the hem to the collar. That's why our custom tailor tape measures feature two measurement systems. On one side, you'll see large, easy-to-read inch increments for quick measurements. In those times when you need a bit more accuracy, simply flip the tailor's measuring tape over for metric measurements down to the millimeter – no guessing or "eyeballing" required!
Showing 1–12 of 14 results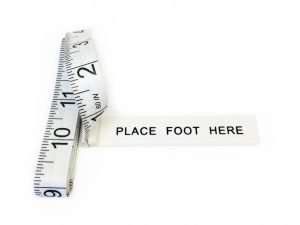 Unit Price for this product is based on the following Minimum Order Quantities, choose your quantity to preview the subtotal.
Quantity

0-

99

100

- 999

1000

- 2999

3000

- 4999

5000

+
Unit Price (Standard)

$.99

$

0.84

$

0.79

$

0.69

$

0.59

Unit Price (Customized)

$1.39

$

1.18

$

1.11

$

0.97

$

0.83
White vinyl-coated fiberglass tailoring tape with inches (down to 1/16ths) on one side and split-scale inches and metric on the other side. Comes with a detachable step-piece that allows one-handed inseam measurement. Length: 60"/1.5m; Width: 16mm
View product